White Chocolate Fudge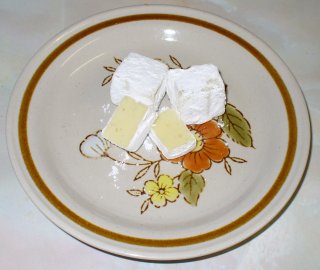 Serves:
4-6
Cooking time:
10 minutes
Ingredients
200g sweetened condensed milk
200g white chocolate
1 vanilla bean
icing sugar
Method
Slice the vanilla bean in two lengthways and scrape out the seeds, adding them to the condensed milk.
In a bain-marie, very gently melt the chocolate in the condensed milk.
Pour out into a suitable container that you've lined with greaseproof paper, and put in the fridge for at least two hours to set.
Cut into cubes and sprinkle with icing sugar.
Notes