Turkey Dahl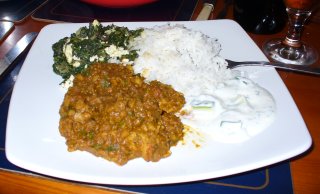 Serves:
4
Cooking time:
3 hours
Ingredients
250 grams yellow split peas, soaked as directed
850 grams turkey thigh, diced
2 medium onions, sliced
4 garlic cloves, sliced
400 grams tinned chopped tomatoes
400 ml chicken stock
vegetable oil
2 teaspoons cumin seeds
1 teaspoon mustard seeds
1 teaspoon fennel seeds
5 teaspoons garam masala
1 teaspoon chilli powder
2 teaspoons turmeric
½ teaspoon ground ginger
Salt
Method
Rinse the split peas and boil them for 10 minutes
Meanwhile, in a heavy ovenproof dish, fry the onion and seeds in a little oil for about 5 minutes until they start to soften, then add the garlic for a minute, and then the turkey.
When the turkey has browned, add the remaining ingredients and season to taste.
Cover, and cook in a very low oven for two hours, until the turkey and split peas are tender and the sauce has thickened.
Notes
As you can see in the picture, I served this with Sag Paneer, Cucumber Raita and boiled rice, although it would be fine with simply boiled rice and a good dollop of mango chutney.