Tuesday, May 1, 2007, 08:45 AM
I'm off tomorrow to walk
Hadrian's Wall
. We're doing it in five days, and the weather seems set fair for at least four of those days, so assuming we can find food (shops seem to be quite rare along the course of the wall - I wonder where the Romans got their lunch), all should be well.
Ah... four nights in a tent with a flatulent
dog
- what could be better!
Tuesday, April 17, 2007, 06:07 PM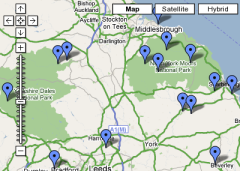 The
My Maps
feature in
Google Maps
is new and exciting. You've been able to do this sort of thing before using the API, and sites like
Frapper
have grown up around this, but that's all too much effort for most people, including me.
I've had a quick go at making my own map marking
the starting points of my weekend walks
. It's only got this year's walks on it, and I think it might be a bit cluttered if I put them all on, but it is quite effective.
So next time you're planning a
pub crawl
, this may be just the tool.
Wednesday, April 4, 2007, 03:45 PM
As a follow up to my list of seven favourite songs, here are some appropriate YouTube videos:
No luck finding the Aphex Twin track though...
Tuesday, April 3, 2007, 05:01 PM
I've been
tagged
. I don't think I'm going to tag anyone else, so I probably fail in my duty, but never mind.
Anyway, seven favourite songs. Hmm... this changes minute by minute but the current snapshop, in no particular order, is:
Pink Floyd - Fat Old Sun
Ween - Don't Laugh, I Love You
Led Zeppelin - Kashmir
Aphex Twin - Schottkey 7th Path
Kings of Convenience - Winning a Battle, Losing the War
Kraftwerk - Computer Love
Steely Dan - Haitian Divorce
Tuesday, April 3, 2007, 01:54 PM
I've finally succumbed. I said I'd never get a cell phone as well, you know...
Back