Thursday, June 30, 2011, 05:06 PM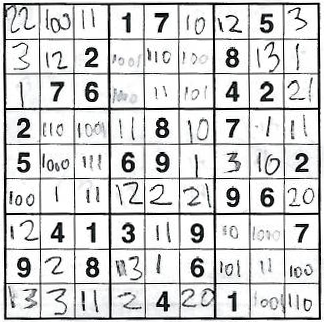 Tired with ordinary Sudoku? Try my modification! Look at the unsolved puzzle and count the clue numbers in each of the nine 3x3 boxes. Then, when completing the puzzle, use this as the base (radix) for that box. If a box has no clues then use Roman numerals. So in this example, the upper left box uses base three, upper middle box binary, and the upper right base four, etc. Really makes your brain hurt!
I really like this. For some reason others seem to be less keen...
(BTW, can you spot the error I made in this puzzle?)